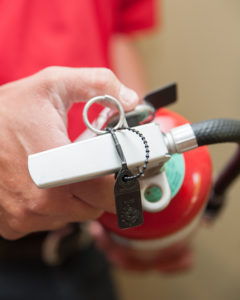 Six-Year Maintenance Service
Every 6 years, stored pressure fire extinguishers must be recharged. This is a mandatory procedure that makes sure the extinguisher is in proper working order. Our trained personnel will inform you if 6-year maintenance is mandatory for your fire extinguishers. If you are unsure whether your fire extinguishers need maintenance, please contact usand we'd be happy to answer any questions you may have.
Hydrostatic Testing
A hydrostatic test is a recertification of your fire extinguishers shell. Stored pressure fire extinguishers must be tested every 12 years. High pressure extinguishers, such as CO2 extinguishers must have a hydrostatic test every 5 years. Low pressure stainless steel shell extinguishers must also be tested every 5 years, such as K-Class, Water and AFFF extinguishers.
Recharge Fire Extinguishers
Peterborough Fire Extinguishers offers recharging services on all types of rechargeable portable fire extinguishers.