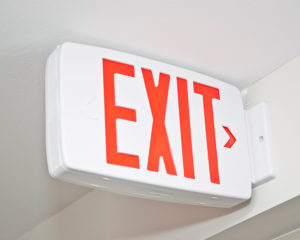 Get to Safety Quickly and Avoid Becoming Trapped
It's important that all exit and emergency lighting be in working order to provide safe exit from your building in case of emergency.
Fundamental Equipment for Proper Safety Infrastructure
Emergency lighting & exit signs are an absolutely crucial aspect of proper safety infrastructure for a school, factory, office, and among others, apartments or commercial buildings. The batteries of exit signs and emergency lights must last at least a specific amount of time once a power failure has occurred.
Peterborough Fire Extinguisher's personnel can ensure that your emergency lighting systems and exit signs meet all standards and are well functioning in case of a power failure. We supply, and inspect exit signs and emergency lighting systems across East Central Ontario.