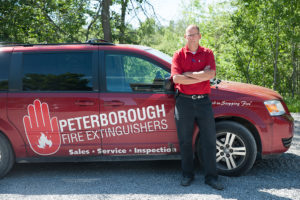 Mobile Service. We Come to You!
Peterborough Fire Extinguishers is a family-owned, local business, founded in the early 1970s and purchased by Steve and Diana Carter in 2003. Because of our reliable and trustworthy service, our business has grown over the years to include, but is not limited to, clients who are major manufacturing plants, government buildings, libraries, theatres, and apartment buildings.
NFPA 10 Certified
Our personnel are NPFA 10 certified to inspect, service and install all types of fire extinguishers, fire hoses, all backed by our own and our manufacturers' guarantees. Our fully equipped vehicles and our friendly, well-trained staff offer excellent customer service, keeping up-to-date with the latest changes in regulations. Our goal is to provide our customers with the best equipment and services, at the best price available.
Peterborough Fire Extinguisher is a member of the Greater Peterborough Chamber of Commerce, the East Kawartha Chamber of Commerce, and the Women's Business Network.
We travel to all points in East Central Ontario, from Courtice/Oshawa – east to Bellville and north to Bancroft – wherever our products and services are needed.
Our drop-off centres are located at:
Kawartha Battery
671 Erskine Ave.
Peterborough, ON
L9J 7S8
Monday to Friday, 8 am to 5 pm
Style Boutique
827 Ward St.
Bridgenorth, ON
K0L 1H0
Monday to Saturday, 10 am to 5 pm
(705) 292-8191
"Your hand at stopping fire."