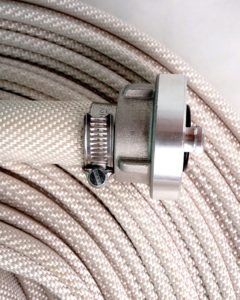 Fire Hose Sales for East Central Ontario
Peterborough Fire Extinguishers can advise you on the type of fire hose that is required on your premises. We take into account the potential fire hazards within the building, the building's size, and legislation set forth by the Ontario Fire Code. There are many situations that could arise requiring the aid of a particular type of fire hose and nozzle – it only makes sense to trust a professional company such as Peterborough Fire Extinguishers to select a hose and nozzle that would accommodate each particular effort.
Full Supply & Installation Service
Our certified personnel supply and install fire hoses at commercial buildings, apartments, and industrial locations. The fire hose could be permanently attached to the building's standpipe or plumbing system, making it readily available in case of a fire. Your fire safety equipment and tools need proper storage to remain effective. Ask us about our heavy-duty fire hose racks and reels to store your equipment after the job is done and keep it in good working order. If you already have a working rack, we also offer fire hose re-rack service and detailed inspections.