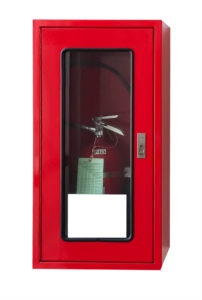 Cabinets for Fire Protection Equipment
Peterborough Fire Extinguishers is able to supply and install cabinets for portable fire extinguishers. We carry a wide range of hardware and cabinets from North America's leading manufacturers.
Our certified personnel will advise you on the type of cabinet needed for your fire protection equipment.
Select the type of cabinet
Determine the size from the interior contents
Consider the wall depth and trim projection
Select the trim and door material
Determine the appropriate door style
Mounting Hardware & Brackets for Fire Safety Equipment
In order to pass mandatory fire safety inspections, all equipment and extinguishers must be mounted securely and properly. Equipment must be mounted in a good, accessible place in case an unexpected fire strikes. Peterborough Fire Extinguishers carries mounting hardware for our large inventory of fire extinguishers and other equipment. We would be happy to install or replace the mounting hardware in your location to bring you up to fire code standards, and most importantly, keep you and your employees safe.